Updates from around the world
[ad_1]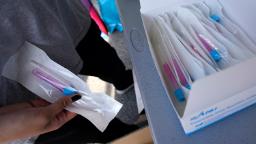 South Korea will adopt a cell phone QR code-based logging system for patrons of entertainment venues from June to aid contact tracing, it was announced Monday. 
Places like clubs, karaoke bars and restaurants must use the system, having been designated as high-risk facilities by authorities. 
Customers will need to receive a QR code at venue entrances using an app, with their information then logged by management.
People who refuse to use QR code downloading, or who don't have cell phones, must still log their identification details with staff. 
According to the government, the information provided will be available for epidemiological investigation purposes only, and automatically discarded after four weeks. 
The system will be used when the country's infectious disease alert level is at its two highest levels, health official Yoon Tae-ho said at a briefing.
[ad_2]

Source link